If your church is like so many others in the US, you're dedicated to leading and developing followers of Jesus—of all ages.

But something's missing.
Young people. Twentysomethings. Teenagers.
Maybe they're not completely absent, but there sure aren't as many as you'd like to see filtering in the doors on Sunday. If your church seems to be aging every year, you're not alone. You're actually part of an overwhelming trend.
While 18-29 year olds make up 17% of our overall population, they constitute only 10% of churchgoers. In fact, many churches across the United States are shrinking and aging overall, and even closing their doors. The stats just don't lie.
Percentage of US adult population attending church
Evangelical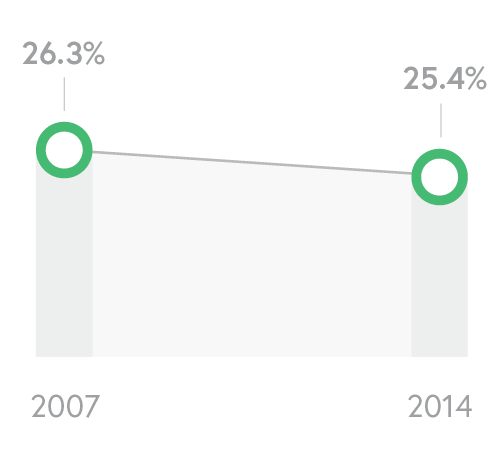 Mainline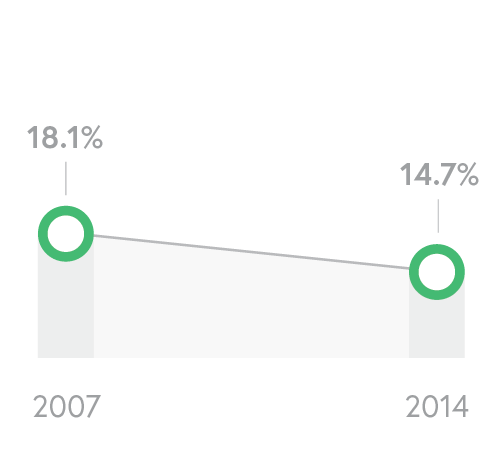 Catholic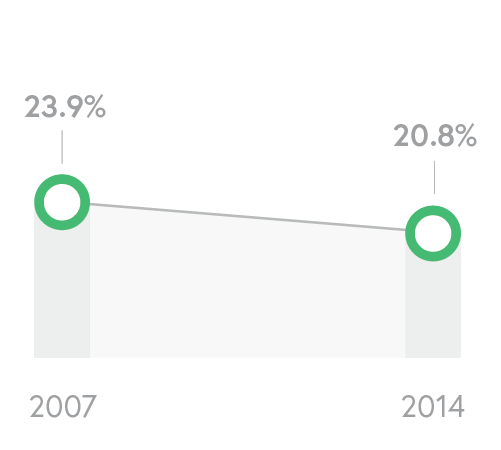 And you're not sure what to do.
Or maybe you have some ideas, but you're having a hard time gaining traction and getting the rest of the church to pay attention.

Perhaps you were told that reaching young people was unattainable.
"They want entertainment!"
"They follow hip, young leaders!"
"They need better facilities!"
"They prefer watered-down sermons!"

In other words, reaching teenagers and young adults should be a job for someone else. The bigger church down the street. The cooler church downtown. The more contemporary church over there.
But not your church.
Yet, despite all the obstacles you face, you are still convinced that reaching young people should be a goal for your church. You know in your heart that your church longs for their presence. And you also know that they long for a place like your church.
In fact, you are convinced that there's a different way to do this. There must be intentional, healthy churches out there that are growing—spiritually, emotionally, missionally, and maybe even numerically.
They are lively with the passion of young people who are involved across a variety of ministries.

They are filled with intergenerational relationships that foster growth in every way.

They are reliable, generous resources for their community.

They are unleashing the potential of teenagers and young adults who are ready to get to work.
It must be possible, right?
Yes!
We have met them. And we've explored how they do it. We'd like to share everything we have learned with you.
Core Commitments of Churches Growing Young: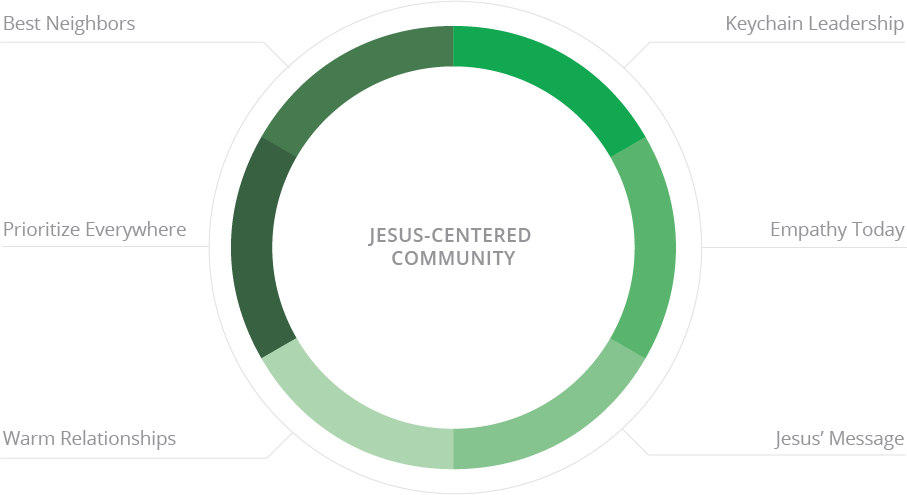 Keychain Leadership
Instead of centralizing authority, empower others—especially young people.


Empathy Today
Instead of judging or criticizing, step into the shoes of this generation.
Take Jesus' Message Seriously
Instead of asserting formulaic gospel claims, welcome young people into a Jesus-centered way of life.


Fuel a Warm Community
Instead of focusing on cool worship or programs, aim for warm peer and intergenerational friendships.
Prioritize Young People Everywhere
Instead of giving lip service to how much young people matter, look for creative ways to tangibly support, resource, and involve them in all facets of your congregation.

Be the Best Neighbors
Instead of condemning the world outside your walls, enable young people to neighbor well locally and globally.
What's indisputable about these churches that are living the dream? They're doing it on purpose. They didn't stumble upon success with young people.
They're making intentional decisions every day—through emails, budgets, sermons, and meetings—to include young people.
And young people keep coming back.
But we're actually kind of glad you haven't spent the big bucks on a fog machine yet. Or an espresso machine. Or any kind of machine, really.
We're also glad that you're not about to spend more on training that hasn't led to the results you really want.
Why? Let us explain.
Here's how most church team training goes down…
You've attended your share of ministry gatherings and conferences, and you've loved most of them. You loved the energy. You loved the camaraderie. You loved the conversations, the perspectives, and the new ideas.
However, you've become increasingly restless with where you are investing your resources. The conferences are encouraging (sometimes we need that), but too general. The seminars are interesting (sometimes we need that), but too short.
And let's be honest—you have a lot of notes, programs, and resources that found their way to your bookshelf never to be touched again. It didn't mean that the event you went to, or you took your team to, wasn't meaningful. It's just that whatever you captured at the event had a hard time making it home and into your actual ministry priorities.
We've been there. And we know this pattern gets old.
And you know your team REALLY needs…
Extended time together.
Tools to turn ideas into strategies.
Peer churches to give feedback.
Research-based resources along the way.
A coach to guide you.
Accountability to follow through.
Because when you have all those tools, your team will be able to:
Get the most out of your training budget because the people who created the content are also the people walking you through it.
Share informed, experience-based insights on what effective ministry with young people can look like, and invite your whole congregation to join you.
Have positive conversations about teenagers and young adults (perhaps for the first time), and even more conversations WITH teenagers and young adults.
Never waste money on "hip" bells and whistles in an attempt to seem cool to Millennials. You'll have much better initiatives to spend money on.
Creating a comprehensive plan that will guide your team through the steps necessary to become more effective as a whole.
And most importantly…
Come back to the drawing board time and again, reviewing inspiring content and ideas, reflecting on your strategies, and implementing new changes.
That's what keeps today's leading churches in the game.
And that's why we diligently studied over 250 diverse congregations to understand the secrets to reaching today's young people.
Our Growing Young research narrows in on 6 core commitments these dynamic congregations hold in common.
Our church training strategy is all about helping you discover what those 6 core commitments look like in YOUR context.
But before we get too far ahead of ourselves, here are 4 myths that might keep you from shifting your strategy this year.
If we focus on young people, older people will walk away.
This is a valid fear. You're wondering whether the older folks in your congregation will actually enjoy having more young people around. You're wondering whether they even care that young adults are missing in your congregation.
In reality, older people might need some time getting used to your efforts in engaging young people. Change is tangible when it's significant, and that can make it hard. But in the LONG run, young people bring their own brand of vitality to your church. We've found that ministries across the board thrive when young people are active. It's worth it.
Young people are constantly in and out, and it'll be impossible for our church to keep up.
You might see young adults as a transient population. They're in town for school or work, and might leave in just a few years.
But this doesn't mean they don't want a community where they know they belong. In fact, this is a CRUCIAL time for them to be connected to a network of people who will love and follow Jesus with them. And by intentionally walking with them, you'll keep up.
Our team has already tried this and new insights can't really help our church.
While it's great that you put your heads together in the past, there's a reason you're not convinced that this is the best your team can do. You're probably right.
Every team has potential. But sometimes we need others to coax that potential out of us. In addition, we need concrete, real-life examples from those who have been in our position.
It's not enough to tackle your ministry challenges with brute force and hope something happens. It's time to give your team the training and content it needs to thrive.
Other churches can reach young people. Our church doesn't need to.
It may be true that another church in your community already has something going well when it comes to ministry with young people. But our hunch is that there are a whole lot of young people still to be reached. You may be just what they need most.
Bottom line? No other church can do what YOUR church can do. Young people need your church to share the gifts that are unique to your congregation. They need you.
Let us introduce you to our
Growing Young Cohort
The most comprehensive church training model that will help you unleash the potential of your congregation to engage the next generation.

We've spent more than a decade studying effective ministry with teenagers and young adults.

We've interacted with hundreds of engaging churches and thousands of young people.

We've trained leaders like you who are ready to remove the guesswork and take their ministry to the next level.

89% of cohort participants say it's the best training they've ever received.
Here's how it all breaks down:
2 in-person summits that dive into the research behind Growing Young, foster small and large group discussions, and help you create a plan to implement new strategies in your church.
Monthly online training webinars hosted by FYI and other leading ministry voices on topics such as leading change, sociological and cultural trends among today's young people, conquering conflict and more.
One year of personalized coaching from a Growing Young expert for support, accountability and reflection throughout the cohort.
Support with creating a personalized plan for your team that defines next steps in your context, and develops a strategy for change.
Comprehensive diagnostic assessments that shed light on areas for growth and guide your steps. These assessments are academically validated by our research team!
Access to an exclusive cohort community, where you'll meet leaders like you who are ready to share ideas and experiences. This is the place to inspire and to be inspired.
Join the Growing Young Cohort Today
What would it mean for your church to make this your breakthrough year? What would it mean if by 2020, you felt more empowered and equipped than ever to engage teenagers and young adults?
If you're ready to get to work, we'll be your best champions.
Claim a seat now.
Register your church for our 2019-2020 Growing Young Cohort.
Only 30 seats are open, and they fill up fast.


Summit Dates:


October 3-4, 2019 & February 13-14, 2020
Tuition:


$4,000 per church
Need a scholarship?


A limited number of scholarships are available to select qualifying churches.
Apply once registered.

Get in touch.
We would love to give you all the information you need. Fill out the form below and someone from our team will contact you shortly.

What participants are saying:
"You took a huge concept that can be pretty nebulous and broke it down into captivating vision and practical actions steps, which helped our smaller team have good starting points in our discussions."

– Tara Reynolds, Memorial Drive Presbyterian Church
"I am 50 years old but left the Summit feeling that at our core, the desire for identity, belonging and purpose transcend all age groups. This realization, coupled with a greater understanding of emerging adults and their unique challenges, helped increase my empathy with my 20-year-old daughter and her generation."
Got Questions? We have answers!
Who should attend the summits?
We allow each church to bring up to 4 team members to each summit. In addition to considering youth and young adult ministry staff or volunteers, we strongly recommend including a representative from both of the following groups:
Senior leaders (such as a senior pastor, executive pastor, elder, or a similar role). Given the key part that senior leaders play in the culture of the overall church, we've especially designed this research and the resulting resources to speak to their needs and interests. This is a great opportunity for your church to involve senior leaders from the start.
Young adults (especially those in the 19-29 year-old range). Much of the discussion during the summits will focus on ministry to teenagers and emerging adults. You'll position your team to receive immediate and relevant feedback regarding potential opportunities and challenges by involving a young adult in the discussion right off the bat.
Do you have scholarship options?
Yes we do! The generous Fuller Youth Institute community offers opportunities for churches in need of a little support. Details and application will be made available once you register.
How do I know if the Growing Young Cohort is right for me?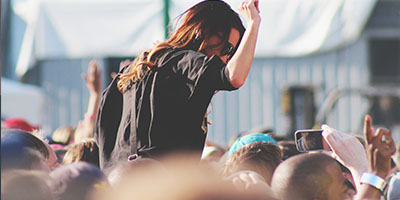 You have a handful—or even hundreds—of teenagers and young adults in your congregation, but you're not sure what to do with them. They are excited to go deeper, and you know they're looking for opportunities. You need a strategy, and you're ready to get to work.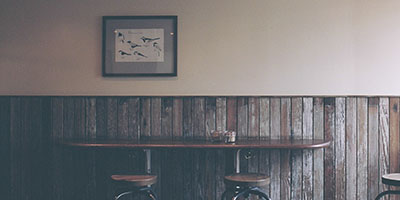 Honestly? Teenagers and young adults are missing from your congregation. On top of that, they seem to intimidate—or even turn off—a decent portion of your current attendees. But you've come to terms with the fact that if you don't start growing young, your church might not be around for much longer. Something has to change.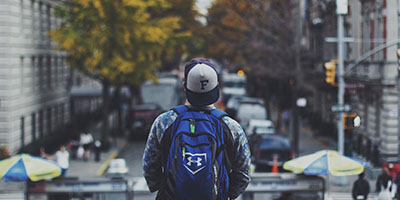 Your church offers decent young adult programs and you're feeling good about your team's ability to innovate. But you're way too busy and are having trouble cultivating that coveted innovation opportunity among your church team. You're ready to try something new.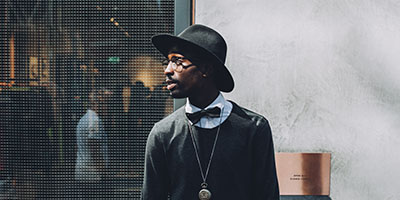 There are a few young people who show up at your church, but you don't really know why. You wish you could get to know them, but taking that first step makes you more nervous than the time you asked out your first date. But you're determined to engage with them. You and your team want to build ministry capacity and confidence. You just need a little help.

As you can see, there's a wide spectrum of churches that belong in our cohort. And when you join us, you'll get the opportunity to:
Get that team time you've been wanting but can't seem to create.
Find answers to your hardest questions about teenagers and young adults.
Bounce ideas off of a mentor coach dedicated to your success.
Meet peer churches as excited as you are about the future.
Come spend your next year with us.
Join us right now for a game-changing year.
Claim a seat now.
Register your church for our 2019-2020 Growing Young Cohort.
Only 30 seats are open, and they fill up fast.


Summit Dates:


October 3-4, 2019 & February 13-14, 2020
Tuition:


$4,000 per church
Need a scholarship?


A limited number of scholarships are available to select qualifying churches.
Apply once registered.